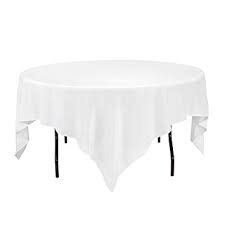 Linen, 85"x85" Four Point
Don't leave your tables bear! Our standard fabric table linens will help you dress up your tables for your next event. Colors are available in white, black, or ivory. For different colors, designs, lengths, and/or fabric material, please contact our office at 317-769-4993 to find out more information. Our 85" x 85" table linens are generally used on 60" round tables or tall cocktail tables.These linens are not floor length linens.
*Please note that any specialty linen must be ordered at least two weeks prior to the event date.