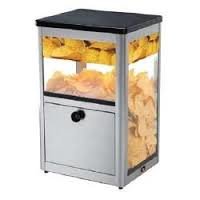 Nacho Chip Warmer
Keep your snack bar well stocked with hot and ready to go nacho chips. Easy to use controls let you manage the temperature and make quick adjustments as need be.
- Shatter-resistance incandescent bulbs
- Stainless steel, aluminum, and tempered glass construction
Don't forget your nacho chips and cheese!